As Aotearoa enters a super scary time, during the Covid-19 Pandemic, we have some tips for fortifying and re-using your washable face masks.
---

With the global pandemic seemingly taking centre stage we set out to provide Kiwi's and visitors to our shores with the best 'ready to go' reusable precaution kit, providing them with all the tools to keep them safe from Covid-19 when travelling and in public places. Wasteless-Kiwi's pandemic precaution kit has been designed for the busy worker, in a Covid-19 world. The PP-Kit contains a full set of essential PPE items for use during air travel and public commuting, in unsure times or when Alert Levels are high. Thankfully Aotearoa is currently free from community transmission of Covid-19, but health officials are warning us...
---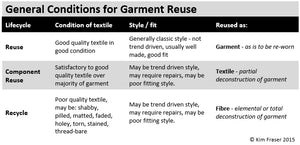 "Every second, the equivalent of one garbage truck of textiles is landfilled or burned and, if nothing changes, the fashion industry will use up a quarter of the world's carbon budget by 2050." Ellen MacArthur Foundation, Nov 2017   Textile products are now everywhere - from covering our bodies to populating our homes and workplaces. They are the perfect consumables for multinational giants who have entrenched themselves in perpetually creating product at the lowest price-point for re-consumption. Textiles and cloth items are being treated like consumables: consumed in their very first short life from fibre through to disposal.   Minimizing...
---
The Redetermined Dress Collection began as a research project. In 2007 I began questioning fashion's sustainability, in particular I was concerned with wasteful fashion consumption and the rapidly growing throwaway culture that was developing in Aotearoa. Along my journey I began exploring ReFashion as an intervention for reclaiming discarded textile items and reconstructing new clothing for return to the fashion stream. My view is that discarded clothing is an untapped commodity, a rich fibre/textile resource to be conserved and transformed into contemporary fashion.  During the first scoping phase of my ReFashion experimentation, I transformed numerous discarded items into further unique and wearable clothing. ...
---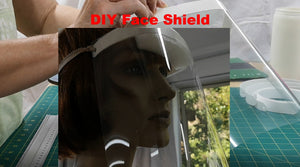 In the midst of the Covid-19 Lockdown I was asked to make protective face shields for ESSENTIAL workers in a freight depot. They're working on the distribution line ensuring our essentials get through to the right place. But with worldwide PPE gear being in such short supply, they just need a bit of extra protection to keep them safe while working. I was inspired by a report discussing how Washington medical staff were using craft supplies to make their own Face Shields. But, given the unavailability of craft supplies during Lockdown, I decided to test materials that I had at home. This is an easy DIY...